Sequential false-color radio images of SS-433, made with the Very Large Array, in January, February, March, and April of 1981. (VLA/NRAO). According to the Ritzian hypothesis the features that have been identified as jets would be interpreted as de Sitter images (of a binary component) that are periodically seen simultaneously on opposite sides of the binary center-of-gravity.

* * *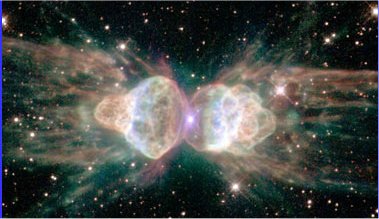 Planetary Nebula Mz3 - "Ant Nebula"
Hubble Space Telescope
"Actually, current thinking points towards the
possibility of a close star. This star's gravitational
influence would alter the flow and direction of ejected gas."
* * *
Super Nova 2006gy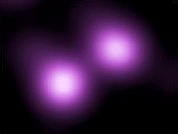 Chandra X-Ray / Lick IR
Credit: Illustration: NASA/CXC/M. Weiss: X-ray: NASA/CXC/
UC Berkeley/N. Smith et al.; IR: Lick/UC Berkeley/J. Bloom & C. Hansen

See: