Home | Up one level | Previous | Next

Reflections on Stellar Evolution

Installed 18 Aug 2000 - Latest revision 22 Mar 2019
Calculated and Estimated Stellar Distances versus Stellar Parallax Angles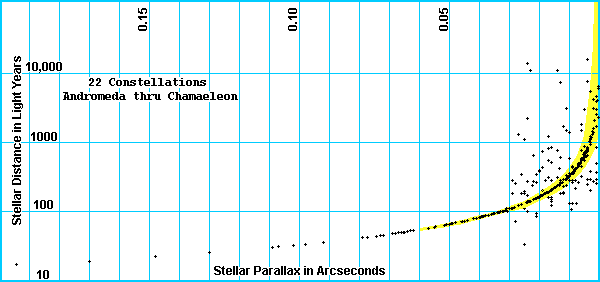 Points plotted represent the bright stars in 22 constellations (Andromeda through Chamaeleon).

Stellar Distances versus Hipparcos Parallax angles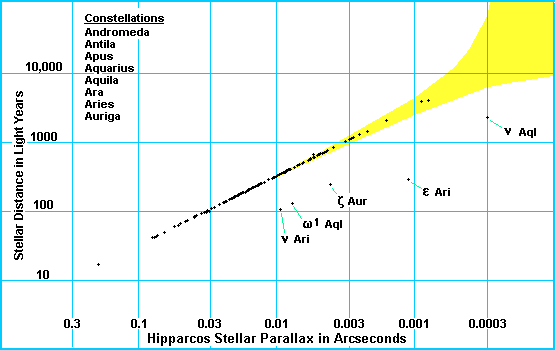 Note that in the cases where estimated distances are removed by more than five standard deviations from the values expected based on Hipparcos parallax data (the yellow region), the estimates are all on the "too close" side of the "pack."

Stellar Distances versus Pre-Hipparcos Parallax Angles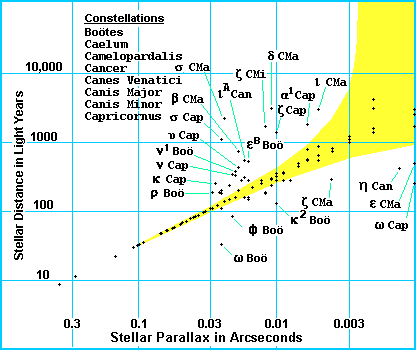 For these pre-Hipparcos parallax-angle-measurements and distance-estimates the out-lyers are distributed more or less evenly on both sides of the five standard deviations region.

It would appear that the majority of the divergent pre-Hipparcos distance estimates, many of which are based on considerations other than parallax, have been replaced with calculated values based on the Hipparcos angles.

Parallax and Distance data are from the Star Data Tables by Richard Dibon-Smith.
Related Links
UK Astronomers Help to Rechart the Heavens Google Newsgroups: sci.astro - 12 May 1997.